New Arrival, from Downtown LA to Barcelona:
Shooting the music video for 'Jahred':
Film stills from the making of 'Jahred' music video, shot the second
week of December 2007
in Barcelona, Spain. Directed by Santi Aguado.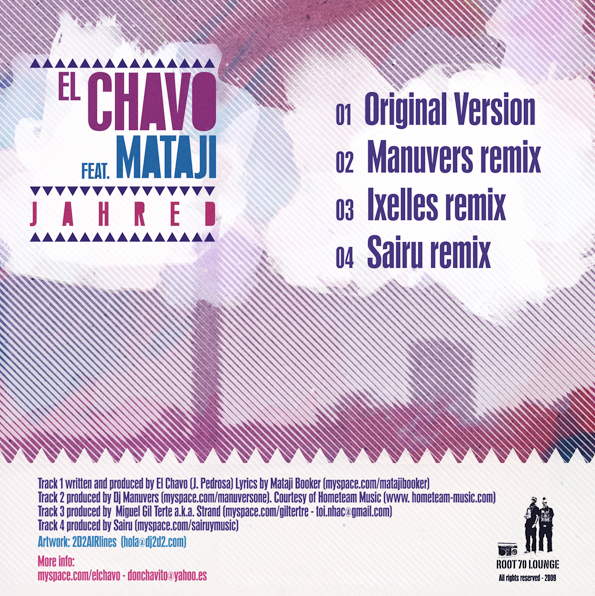 Listen to Jahred Remixes & check out El Chavo interview
on Root 70 Lounge.
The story of how 'Jahred' came to exist across borders:
Once upon a time on myspace, two musicians met. It was back in 2004 when the myspace craze was just taking off and thus, was still really cool and hip. One artist was living in Los Angeles and the other in Spain. One day, the myspace in Spain approached the one in LA about collaberating on a track sometime. She agreed happily and before she knew it she was emailed several sample tracks to sink her teeth into. After awhile she settled on the instrumental beats that would later come to be what we now know as 'Jahred'. Juan aka El Chavo named the tune Jahred after ' Jarret', the last name of the artist from which he sampled the piano on the track. The album happened to be 'the Koln Concert', which I coincidentally owned myself for years.
Once I figured out the lyrics I recorded the vocals at musician friend Sonny Coate's place and emailed the results to Juan in Barcelona. Fast forward to the end of that year just after deciding to finally make the move to Europe. It was nothing short of Divine syncronicity that I had just bought my plane ticket to Rome the week that El Chavo and his good friend and director of the video decided that they wanted to make the music video. Thankfully plane fare is really cheap within Europe and i was able to book a flight straight away from Rome to Barcelona as soon as I landed a week later. It took us about 3 or 4 days to shoot the video all over the city. Although it was December, I had just come from 70 degree weather in LA and landed in 30 degree weather in Barcelona, so if you're wondering why I'm looking so 'hard' and bad ass in the video don't be fooled; I was freezing my southern California ass off.
The Lyrical journey of Jahred:

Before Jahred was Jahred, it was called "The Line" in my notebook. The lyrics were actually written two years before while living in New York City. I remember it's conception well. It was January 2004 and I had just returned from LA for Christmas. It was freezing out side and I was cramped working alone in the coat check closet of the Morgan's bar of the Morgan's Hotel. I had some beats previously given to me by Mums the word on my trip to LA, and the words to the song literally just poured out. Once I got the instrumental from Juan two years later, I added a bridge from another song entitled "Home" and the new version was complete. The song is about the hard knock life of any struggling artist trying to make ends meet. My experience living in New York for three long years up to that point most definately had alot to do with the 'war cry' of the verses...but in the end, even during the hardest times, I knew that I had to step aside and let the powers that be carry me through. So when I was singing Jah, I was praising the most high. Come to find out El Chavo wasn't too good at naming his tracks (his words, not mine) and so that's how he pronounced 'Jarret'. Ha.


Jahred lyrics
by Mataji Booker
I'm searchin' so high
So high to get by Jah
I wanna step outside this line
Outside the lines to define
the love I feel myself inside I
I never thought my heart could fall
This far behind or didn't I
It's in this frame of mind that I hope to find
A true meaning to the answer's I receive
And if I fall I wanna lean on what I feel
Is meant to heal my third eye cries
To be blind when I wanna shine
Divine sign that with love as my guide
Will lead me to the stream of this dream
I've been conceiving my entire time in this line
And only then can I believe in me when
My patience is fadin' I pray to the most high to get by
Jah Jah Jah So High So High
And if they say home is where the heart is
Well then today you should try to find it
No reason to hide years of all your true desires
There's a place inside where you're strong enough
So hurry home to love
I'm searching so High, so High
So High, so High, So I So High
Jah Know I to get by
All rights reserved © 2004 Mataji Booker